View All Articles
March 11, 2020
Trees for Extremely Wet Areas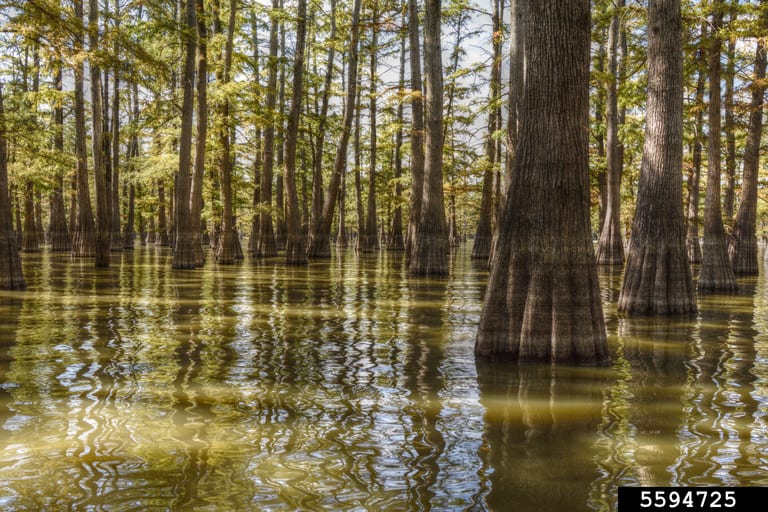 After a heavy rain, excess water can collect and pool in low spots. Stagnant water attracts pest and diseases, promotes root rot, and shifts the soil microbiome balance from aerobic to anaerobic. St. Louis soil, which is clay-based, becomes void of oxygen quickly. Consequently, the roots of many trees and plants rot in these conditions. Fortunately, certain native trees not only tolerate water-logged soil, they help soak up excess water in poor draining areas and look good while doing so.
Bald Cypress
Reaches 50 to 70 feet tall. Very adapted to most moisture levels, as it often dwells in swamps. Tennis ball sized smooth green cones that linger all winter. Lace-like foliage that turns russet-red in the fall and sheds.
River Birch
Reaches 40 to 60 feet in height. Thrives in stagnant wet areas. A native tree that provides all-season interest and dappled shade.
Blackgum
Reaches 30-50 feet tall. Prefers moist, acidic soils. Tolerates poorly-drained soils and can grow in standing water. Pyramidal form with gorgeous fall color and wildlife benefits.
Swamp White Oak
Reaches 50-60 feet tall. Easily grown in average, medium to wet, acidic soil in full sun. Hundreds of caterpillars and birds are supported by oaks.
Dawn Redwood
Reaches 70-100 feet tall. Fast growing deciduous conifer with feathery foliage and cute small cones. Appreciates consistent moisture. Tolerates some wet clay soils.
Willow Oak
Reaches 40-75 feet tall. Untypical of an oak, the leaves are narrow and non-lobed. Adapts to a wide range of soil conditions including clays with somewhat poor drainage. Great wildlife value.
We were very pleased with the service and particularly the knowledge & professionalism of your staff. We would certainly recommend you.
We are very pleased with the plantings suggested by and picked out by Mike. The men arrived on time to plant the boxwood and witch hazel tree; dug out the stump and cleaned up. They were pleasant and helpful – we couldn't have asked for a better team.
We were very pleased and impressed with Dan and his team. We love our new trees and garden.
Thank you so much for all the information you provide – the watering information, the emails and the flier. I read it all and have learned so much. My magnolia trees look surprisingly healthy considering the way they looked when I first called.
Kevin Seger provided expert advice and recommendations about tree maintenance and removal. He listened to my needs and provided a thorough and affordable proposal. On the day of the job, I was very impressed with crew leader, Dave and his team (Felix & Adam). They were professional, efficient, hard-working and very neat about clean-up.
An outstanding job on the four trees and clean-up after the work and removal. We would be happy to recommend your services to everyone – the best tree service we ever have had here in St. Louis.
Kevin was able to come out the same day I called and a crew was out the next day! Great prompt service. I was not at home when the work was done but results show they did a fine job.
Everyone came through as usual when I needed the crew to come back & take out the balance of the fire blight. They did not have a bucket the first time and were so nice and professional about coming back again.
Thank you again for responding to our urgent need after the storm took down our 2 trees & deposited them across our driveway. Your crew, as always, did a fabulous job. Professional, courteous & it is a pleasure doing business with your company.
We appreciate your knowledge and professionalism. Your employees are prompt and courteous and willing to do whatever needs to be done to complete the project. Cleanup was great.