View All Articles
July 23, 2020
Shocking: Lightning Strikes Your Trees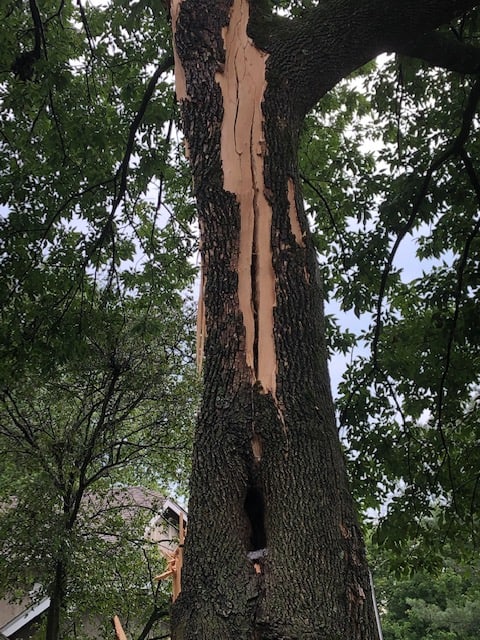 Lightning strikes have been a major issue in our landscapes especially this summer during storm season. A bolt of lightning contains one million volts of electricity. When a tree is hit, water and sap vaporize. Other times, the tree could have sections of bark or limbs blown off. Damage may not be immediately apparent – the damage and dieback can take months or even years to present signs. A healthy vigorous tree may be able to recover, while a tree that is stressed may not be able to. If the tree takes a glancing blow, it has a chance of survival with a little help.
What to do if lightning strikes your tree:
First and foremost – do not approach the tree: there may be downed wires, electrical hazards, or dangerous falling limbs!
An arborist should inspect it immediately to check the tree for compromised aspects of the structure.
As long as the structure is secure, we recommend waiting at least 4-6 weeks before performing any surgery or corrective pruning.
In the meantime, the exposed areas should be treated for insects to keep borers and carpenter ants out.
When it's safe to assume that the tree may live, surgery work should be done to clean out any damaged bark/wood.
Any form of lightning strikes will stress the tree, so supplemental watering and fertilizing is important to mitigate stress.
Continue to have your Arborist monitor the tree on a yearly basis.
For very tall, important trees in your yard, you should definitely consider installing lightning protection systems (these systems work just as they do on structures).
If you think your tree may have sustained a strike, we would be happy to advise you. Just contact one of our certified arborists!
We were very pleased with the service and particularly the knowledge & professionalism of your staff. We would certainly recommend you.
We are very pleased with the plantings suggested by and picked out by Mike. The men arrived on time to plant the boxwood and witch hazel tree; dug out the stump and cleaned up. They were pleasant and helpful – we couldn't have asked for a better team.
We were very pleased and impressed with Dan and his team. We love our new trees and garden.
Thank you so much for all the information you provide – the watering information, the emails and the flier. I read it all and have learned so much. My magnolia trees look surprisingly healthy considering the way they looked when I first called.
Kevin Seger provided expert advice and recommendations about tree maintenance and removal. He listened to my needs and provided a thorough and affordable proposal. On the day of the job, I was very impressed with crew leader, Dave and his team (Felix & Adam). They were professional, efficient, hard-working and very neat about clean-up.
An outstanding job on the four trees and clean-up after the work and removal. We would be happy to recommend your services to everyone – the best tree service we ever have had here in St. Louis.
Kevin was able to come out the same day I called and a crew was out the next day! Great prompt service. I was not at home when the work was done but results show they did a fine job.
Everyone came through as usual when I needed the crew to come back & take out the balance of the fire blight. They did not have a bucket the first time and were so nice and professional about coming back again.
Thank you again for responding to our urgent need after the storm took down our 2 trees & deposited them across our driveway. Your crew, as always, did a fabulous job. Professional, courteous & it is a pleasure doing business with your company.
We appreciate your knowledge and professionalism. Your employees are prompt and courteous and willing to do whatever needs to be done to complete the project. Cleanup was great.