View All Articles
September 29, 2019
Save your trees – Hire an Arborist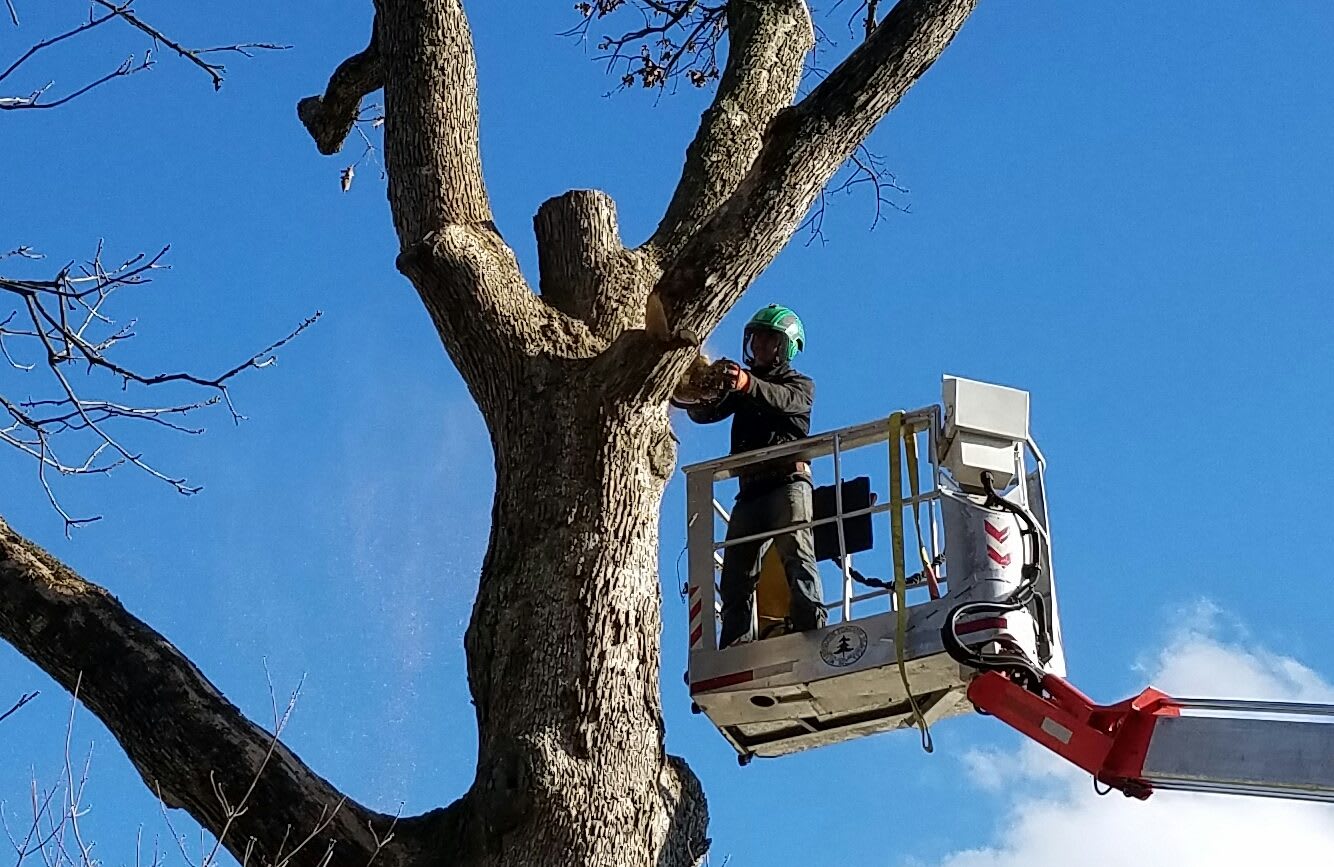 2019 has been a disturbing time to be an Arborist in St. Louis.  Driving around the city, we see horrifying examples of the most dangerous and damaging threat to trees – HUMANS.  Big, beautiful, mature trees that we will never again see the likes of in our lifetime, being lion-tailed or topped.  Incorrect and ineffective methods and products used to treat trees and prevent EAB. Diseases misdiagnosed.  Trees mistakenly taken down.  Trees being dropped on homes by unskilled companies.  Construction projects without protection plans damaging trees.  Tree services paid for up front and jobs left unfinished or not all.  Improper planting practices cause new landscapes to suffer.  And all this just in the last month!
Most problems for trees are caused by PEOPLE!
Planting the wrong tree in the wrong place
Planting too shallow or too deep
Too much water or too little water
Mower and weed eater abuse to trunks and root flares
Mulch volcanoes
Putting foreign materials in or around the tree
Herbicide or chemical damage
Incorrect, harmful and irreparable pruning practices
Construction around tree root zones
Grade changes
How does this happen?
In most professions, a significant amount of experience and education is needed.  A lawyer or a doctor you will go through years of schooling, followed by internships and practical training. Then required to obtain a license or professional certification before practicing medicine.  Once in the medical profession, there are rigid standards that must be adhered to and oversight bodies to enforce safe and lawful behavior.  This is not the case with the tree care, lawn, or landscaping industries.
To start:
a tree company – all you need is a chainsaw and get in your pickup truck and start knocking on doors!
 a landscape company – grab a shovel and fill up your truck with mulch and start planting trees!
 a lawn care company – start up your mower and head out the door!
There are no barriers to entry into these industries. No regulatory agency to ensure proper use of that chainsaw, let alone safely. Uninformed and unsuspecting homeowners assume: A landscaper, Lawn care and Arborist are synonymous.  This is not the case.  Arboriculture is a specialized science that very different from lawn care or landscaping.  Trees are extremely complex organisms and caring for them requires extensive training in tree biology and physiology.  Working in and around trees is dangerous.  People are killed everyday in this industry working in trees without proper training and taking adequate safety precautions.
WHAT CAN YOU DO TO BE A RESPONSIBLE STEWARD FOR YOUR TREES and COMMUNITY?
When comparing estimates for tree service, clients often ask why there is such a vast difference in tree care quotes.    Experience. Education. Training. Knowledge. Scientific Aptitude. Safety.  That is the difference.
Have a CERTIFIED ARBORIST consult on your trees – problems, pruning and removals
CHECK and verify that Arborist's credentials here at the International Society of Arboriculture 
DO NOT allow work to be done on your property without a signed contract and scope of work.
Make sure you understand what work is going to be done and how your property will look when they are finished.
ASK for a CERTIFICATE of INSURANCE with you listed as the certificate holder
Make sure they have workers compensation insurance
If a tree company using SPIKES or GAFFs to climb your live trees – CHASE THEM OFF YOUR PROPERTY!
If someone knocks on your door asking to take a tree down or trim your tree, or happens to stop by to give you an ominous diagnosis of a dreaded disease killing trees in the neighborhood – SLAM THE DOOR.
If a company has to go door to door, or put up signs at an intersection there is a reason they have to do that and others do not.
DO NOT pay for any portion of tree service ahead of time.
If they do not have safety gear on – do not let them work on your property.  You could be held liable for injuries sustained on your property.
If something feels wrong, ask questions!
Check the St. Louis Arborist Association to find a reputable company
See our PDF Fact Sheet about Lion-Tailing pruning.
We were very pleased with the service and particularly the knowledge & professionalism of your staff. We would certainly recommend you.
We are very pleased with the plantings suggested by and picked out by Mike. The men arrived on time to plant the boxwood and witch hazel tree; dug out the stump and cleaned up. They were pleasant and helpful – we couldn't have asked for a better team.
We were very pleased and impressed with Dan and his team. We love our new trees and garden.
Thank you so much for all the information you provide – the watering information, the emails and the flier. I read it all and have learned so much. My magnolia trees look surprisingly healthy considering the way they looked when I first called.
Kevin Seger provided expert advice and recommendations about tree maintenance and removal. He listened to my needs and provided a thorough and affordable proposal. On the day of the job, I was very impressed with crew leader, Dave and his team (Felix & Adam). They were professional, efficient, hard-working and very neat about clean-up.
An outstanding job on the four trees and clean-up after the work and removal. We would be happy to recommend your services to everyone – the best tree service we ever have had here in St. Louis.
Kevin was able to come out the same day I called and a crew was out the next day! Great prompt service. I was not at home when the work was done but results show they did a fine job.
Everyone came through as usual when I needed the crew to come back & take out the balance of the fire blight. They did not have a bucket the first time and were so nice and professional about coming back again.
Thank you again for responding to our urgent need after the storm took down our 2 trees & deposited them across our driveway. Your crew, as always, did a fabulous job. Professional, courteous & it is a pleasure doing business with your company.
We appreciate your knowledge and professionalism. Your employees are prompt and courteous and willing to do whatever needs to be done to complete the project. Cleanup was great.