View All Articles
January 23, 2020
Making a Notable First Impression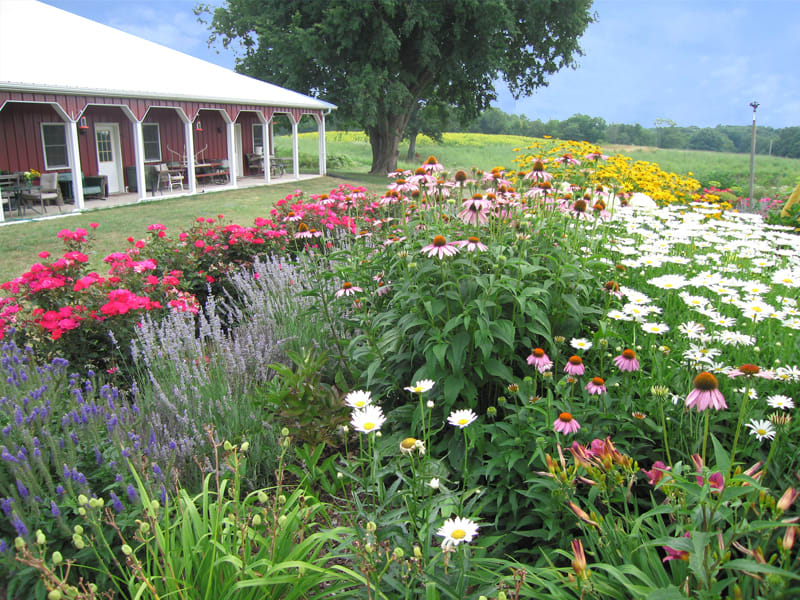 The front of your home is your first chance to make a good impression, as well as creating a sense of joy for you every time you pull up the drive.  Curb appeal is also crucial for those hoping to attract buyers and sell their homes.  Here are some ideas to try in your front yard:
Add seasonal containers:
Colorful spring bulbs like tulips, crocus, daffodils, lilies, iris, hyacinth
Lush summer greenery using coleus, elephant ear, cannas, sweet potato vine
Eye-catching fall arrangements with mums, ornamental grasses, heuchera, even kale!
Interesting evergreens or berries in the winter like the old stand-by, holly
Evergreen boughs, winterberry branches, poppy and allium heads, pine cones, southern magnolia leaves, sweetgum balls, tree bark, and red twig dogwood stems all come together to create some pretty fantastic arrangements
Include scented plants along an entry pathway:
Lilacs (and Chinese tree lilacs)
Koreanspice viburnum
Roses
Mint
Lavender
Sweetbay magnolia
Crabapple
Clethra
Honeysuckle (NOT JAPANESE!)
Install lighting to make the journey to the front door dramatic and easy to navigate:
Uplight specimen plants for drama
Light the path with footlights. Steps should be lighted for safety; either the risers or the treads can be lit
Accent lighting draws attention to an object or area. This is usually accomplished with spotlights or floodlights
Direct light, such as a downlight outside a side entry door, will brighten mostly the object it is directed at and little of the surroundings
Indirect light reflects on the surrounding surfaces to create a soft wash
Too much or misapplied light can create light pollution that shines through windows, wash out the view of the stars, create a distracting glare that is a nuisance to people, and waste energy and money. To avoid light pollution aim lights carefully, shield bulbs to concentrate light where you want it, minimize wattage, and use control systems (timers, dimmers, motion sensors, etc)

Incorporate plants with flowers that complement the color of your front door
Complimentary colors (opposite colors on the color wheel – red door/blue flowers) for a dramatic effect and to draw the eye to the front door
Monochromatic colors (varying shades of the same color – yellow door/creamy white to bright yellow flowers) for a more conservative appearance
Analogous colors (multiple colors next to each other on the color wheel – purple/pink/red) to stick to a definite color scheme that has a little more drama than a monochromatic style
Put plants in crevices and between stones within walkways to add interest
Helps to soften the hard edges
Adds pops of color (phlox, creeping jenny)
Choose plants that can handle foot traffic (ajuga, vinca)
Consider fragrant plants (mint, thyme) that will release their scent when stepped on
This will also help control weed growth
We were very pleased with the service and particularly the knowledge & professionalism of your staff. We would certainly recommend you.
We are very pleased with the plantings suggested by and picked out by Mike. The men arrived on time to plant the boxwood and witch hazel tree; dug out the stump and cleaned up. They were pleasant and helpful – we couldn't have asked for a better team.
We were very pleased and impressed with Dan and his team. We love our new trees and garden.
Thank you so much for all the information you provide – the watering information, the emails and the flier. I read it all and have learned so much. My magnolia trees look surprisingly healthy considering the way they looked when I first called.
Kevin Seger provided expert advice and recommendations about tree maintenance and removal. He listened to my needs and provided a thorough and affordable proposal. On the day of the job, I was very impressed with crew leader, Dave and his team (Felix & Adam). They were professional, efficient, hard-working and very neat about clean-up.
An outstanding job on the four trees and clean-up after the work and removal. We would be happy to recommend your services to everyone – the best tree service we ever have had here in St. Louis.
Kevin was able to come out the same day I called and a crew was out the next day! Great prompt service. I was not at home when the work was done but results show they did a fine job.
Everyone came through as usual when I needed the crew to come back & take out the balance of the fire blight. They did not have a bucket the first time and were so nice and professional about coming back again.
Thank you again for responding to our urgent need after the storm took down our 2 trees & deposited them across our driveway. Your crew, as always, did a fabulous job. Professional, courteous & it is a pleasure doing business with your company.
We appreciate your knowledge and professionalism. Your employees are prompt and courteous and willing to do whatever needs to be done to complete the project. Cleanup was great.