View All Articles
April 4, 2020
Landscaping Under and Around Trees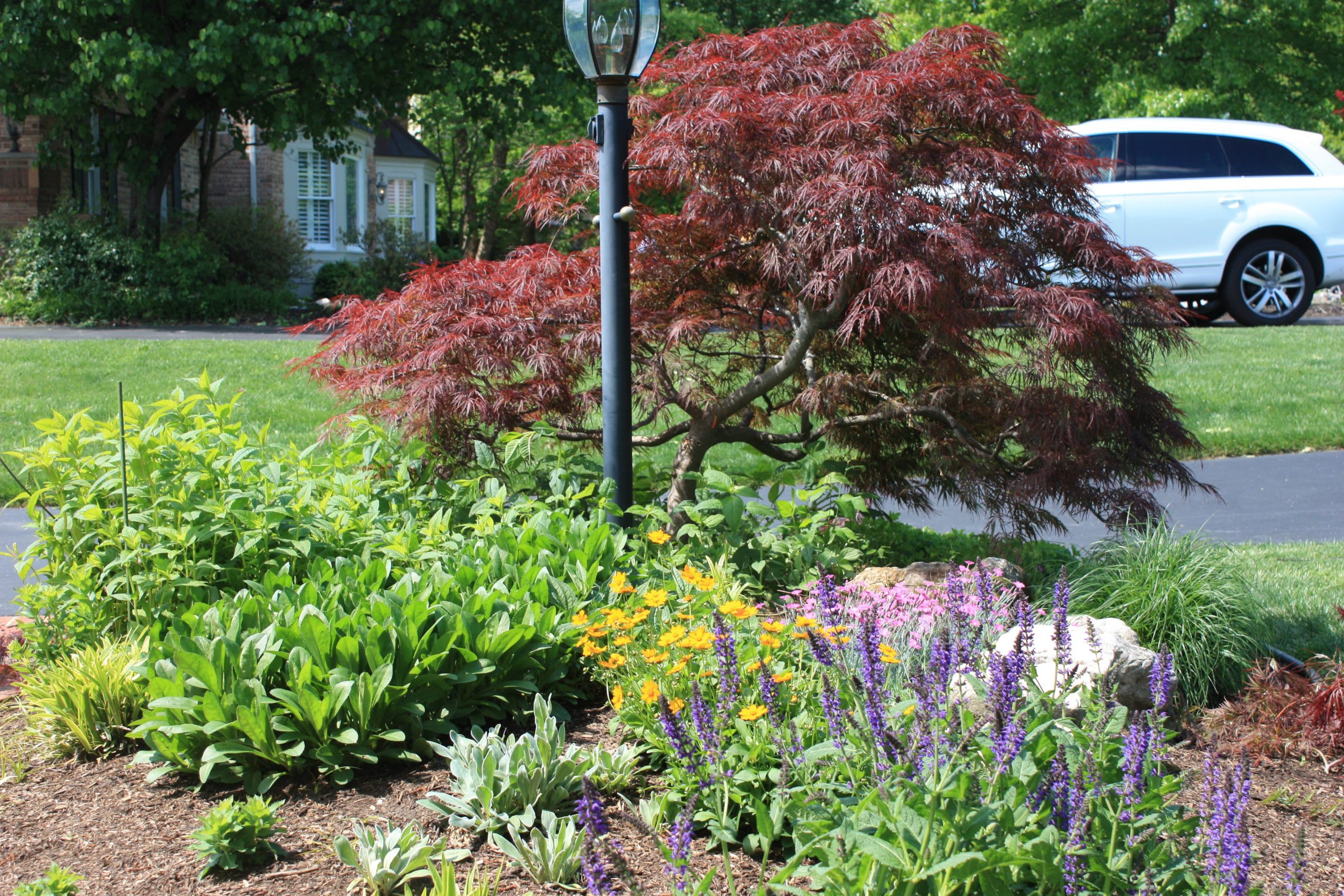 As we all know, trees are one of the best investments for the landscape. A mature tree can add aesthetic value and shade, reduce water runoff and even help lower your energy bills. While the canopy of the tree dominates overhead space, the empty area around their trunks shouldn't be neglected. Here are some simple ideas you can use to create a finished overall look to the yard, while also protecting the tree's trunk and roots. Landscaping around trees helps accentuate the natural beauty of the tree and turns it into a visual focal point in the landscape!
Add the Right Plants
For those of you lucky enough to already have large mature trees there are plenty of shade-loving plants that will appreciate a sheltered spot under a tree.
Use colorful annuals like impatiens and coleus or flowering perennials like astilbe and heuchera.
Select plants in smaller-sized nursery containers rather than bigger ones. Not only will you save a little money, they also will be easier to plant without doing too much damage to the tree's roots.
Spring bulbs like tulips, daffodils, crocus, and hyacinth are also a great way to add a pop of color. As the tree leafs out and blocks the sunlight, the bulbs below will be going dormant and disappearing anyway.
Keep plants far enough from the trees trunk to allow for airflow. Root rot issues can occur in the tree if moisture is allowed to remain on the trunk.
If you're planting a new tree you have even more plant choices. Why?
Because the tree's roots won't be as much of a problem at this point, your options can include shrubs and larger nursery material. Just note the planting distance from the tree – if planted too close they will compete for light, water, and nutrients.
Because you can use sun-loving choices for many years. They may need to be switched out for part-shade plants when the crown begins to provide shade.
If a shrub or well established plant ever needs to be removed in the future care must be taken not to damage the tree's roots.
Layer on the Mulch
Mulching around a tree is a must and can include more than just woodchips.  Shredded bark, pine needles, and even rock can work as well. Repetition of mulch in flower beds and around trees will give your landscape a cohesive and finished look, but besides just aesthetics mulch also provides other vital benefits.
The biggest benefit of mulching around trees is to provide a barrier between the tree and the lawn. Often, lawnmowers and trimmers get too close and damage the tree. Even small wounds to the base of a tree (young or old) can be catastrophic to its vascular system.
Adding mulch is also an important step to help protect the tree roots from heat and prevent water loss through evaporation. This is especially important with the delicate roots of young trees.  Mulch can also reduce soil erosion on slopes and help prevent weeds.
Be sure not to pile it against the trunk like a volcano! This creates a warm, moist environment against the lower trunk that is ideal for pests and diseases. Instead, create a ring of mulch 2-3" thick and a few inches away from the root flare so it looks more like a donut around the trunk. The mulch layer should reach at least to the drip line of the tree.
Use Garden Accents
In addition to mulch and companion plants, try placing a few garden accents around the tree. Large decorative rocks add a natural element to the space, while statues, birdbaths, or gazing balls can add a personal flair. Surrounding the garden with brick edging adds a finished look and keeps mulch contained. The area under trees is also a great spot for decorative containers filled with colorful annuals. Landscape lighting installed below trees adds dramatic nighttime silhouettes and shadows.
We'd love to help make some suggestions for landscaping under trees. Contact us anytime and we can make a plan.
We were very pleased with the service and particularly the knowledge & professionalism of your staff. We would certainly recommend you.
We are very pleased with the plantings suggested by and picked out by Mike. The men arrived on time to plant the boxwood and witch hazel tree; dug out the stump and cleaned up. They were pleasant and helpful – we couldn't have asked for a better team.
We were very pleased and impressed with Dan and his team. We love our new trees and garden.
Thank you so much for all the information you provide – the watering information, the emails and the flier. I read it all and have learned so much. My magnolia trees look surprisingly healthy considering the way they looked when I first called.
Kevin Seger provided expert advice and recommendations about tree maintenance and removal. He listened to my needs and provided a thorough and affordable proposal. On the day of the job, I was very impressed with crew leader, Dave and his team (Felix & Adam). They were professional, efficient, hard-working and very neat about clean-up.
An outstanding job on the four trees and clean-up after the work and removal. We would be happy to recommend your services to everyone – the best tree service we ever have had here in St. Louis.
Kevin was able to come out the same day I called and a crew was out the next day! Great prompt service. I was not at home when the work was done but results show they did a fine job.
Everyone came through as usual when I needed the crew to come back & take out the balance of the fire blight. They did not have a bucket the first time and were so nice and professional about coming back again.
Thank you again for responding to our urgent need after the storm took down our 2 trees & deposited them across our driveway. Your crew, as always, did a fabulous job. Professional, courteous & it is a pleasure doing business with your company.
We appreciate your knowledge and professionalism. Your employees are prompt and courteous and willing to do whatever needs to be done to complete the project. Cleanup was great.