View All Articles
July 26, 2022
Emerald Ash Borer Update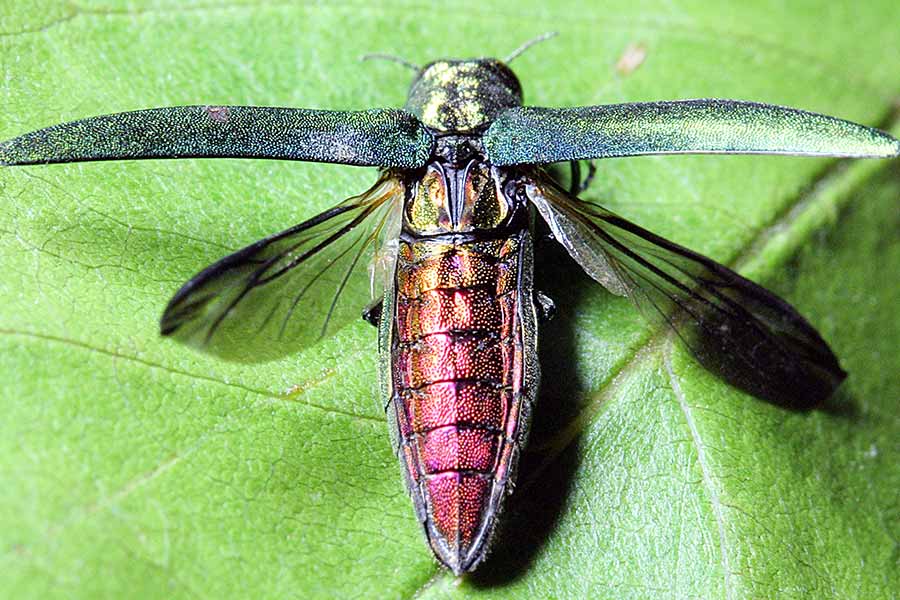 The emerald ash borer (EAB) is a foreign and invasive insect that emerged in the USA in 2002, most likely brought overseas from shipping material. Since its initial discovery on US soil, the emerald ash borer has killed millions of ash trees throughout the country. These pests were discovered here in the St. Louis area in May of 2015. 
In the 1950's and 60s, ash trees were the popular choice for replacing elms that had died from Dutch elm disease. After several decades they reestablished the urban canopy. But when the emerald ash borer was introduced, the trees had no natural defenses against the invader. While most borer species feed on weak or diseased trees, the emerald ash borer feeds on all ash tree species regardless of their health, making their impact swift and severe on ash populations. We are now aware that they will decimate our precious remaining ash trees rapidly if we do not intervene. 
Emerald Ash Borer: Just the Facts 
EABs (Emerald Ash Borer) hatch out of dead or dying trees in early spring and feed on the leaves before laying eggs under the bark. The larvae hatch and bore into the tree, devouring and destroying the vascular system.
Our native ash species have no defenses against this pest.
If ash trees are not treated, they will die from infestation.
Proper treatment will save your tree if the tree has not yet been heavily infested or damaged.
There are at least three systemic treatments that are effective. They must be administered routinely.
If EABs have been detected in your area, the treatments can be applied preventatively to a healthy tree, or as a control response to newly declining ash trees.
Ash trees killed by EAB become very brittle and will need to be removed to avoid major hazards.
Proper removal of a dead or dying tree is imperative to keep the beetles from hatching in the dead wood and continuing their introduction to and destruction of nearby trees.
What Can We Do About Our Remaining Ash Trees? 
Talk with your neighbors about any outbreaks of EAB. Early detection in your area will give you the best chance to save your trees.
Determine the value of your ash trees and consider the benefit of investing in treatment.
There is a lot of misinformation being spread about how to handle this epidemic. Check with reputable sources like the Missouri Botanical Garden, the MU (University of Missouri) Extension, and a certified arborist.
Consult your arborist to create an ongoing health plan for your trees, including treatments, removals, and replanting.
Metropolitan Forestry initially uses the least invasive treatment (soil injections). When populations increase, we take a more aggressive and targeted trunk injection treatment. Please contact us if you have any questions or if you would like an inspection or proposal.  
We were very pleased with the service and particularly the knowledge & professionalism of your staff. We would certainly recommend you.
We are very pleased with the plantings suggested by and picked out by Mike. The men arrived on time to plant the boxwood and witch hazel tree; dug out the stump and cleaned up. They were pleasant and helpful – we couldn't have asked for a better team.
We were very pleased and impressed with Dan and his team. We love our new trees and garden.
Thank you so much for all the information you provide – the watering information, the emails and the flier. I read it all and have learned so much. My magnolia trees look surprisingly healthy considering the way they looked when I first called.
Kevin Seger provided expert advice and recommendations about tree maintenance and removal. He listened to my needs and provided a thorough and affordable proposal. On the day of the job, I was very impressed with crew leader, Dave and his team (Felix & Adam). They were professional, efficient, hard-working and very neat about clean-up.
An outstanding job on the four trees and clean-up after the work and removal. We would be happy to recommend your services to everyone – the best tree service we ever have had here in St. Louis.
Kevin was able to come out the same day I called and a crew was out the next day! Great prompt service. I was not at home when the work was done but results show they did a fine job.
Everyone came through as usual when I needed the crew to come back & take out the balance of the fire blight. They did not have a bucket the first time and were so nice and professional about coming back again.
Thank you again for responding to our urgent need after the storm took down our 2 trees & deposited them across our driveway. Your crew, as always, did a fabulous job. Professional, courteous & it is a pleasure doing business with your company.
We appreciate your knowledge and professionalism. Your employees are prompt and courteous and willing to do whatever needs to be done to complete the project. Cleanup was great.